Hind Filters Limited, has setup a Cigarette Filter manufacturing unit, in 1974 at Dewas, (M.P.) India. the Company manufactures Acetate Cigarette Filter Rods in regular, slim and ultra slim sizes, Flavoured Filter Rods (Menthol, Vanilla, Strawberry, Raspberry, Lemon, Sourplum, Pear, Apple etc.), Dual Charcol & Recessed Dual Filter Roads in Regular Sizes for all major brands of Cigarettes in India, and is ISO 9001/2000 & ISO 14001/2004 certified by Bureau Veritas Ceritification, U.K. The leading Cigarette Companies i.e. ITC Ltd., GPI Ltd. buy their substantial requirements from the Company.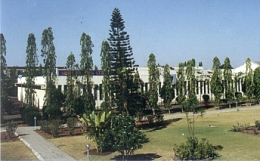 Hind Filters Factory
The Company is a regular exporter of Cigarette Filter Rods to Middle East and South East Asia. The performance has been consistent, and it has declared dividends continuously for last 40 years.
It co-promoted Dewas Soya Ltd., in 1994 which has setup a 900 MT per day Soyabean Extraction Plant and a 140 MT per day continuous Vegetable Oil Refinery at Dewas (M.P.).