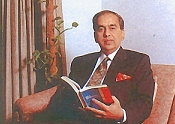 The Hind Group of Companies, Hind Filters Ltd. & Dewas Soya Ltd., have been promoted by Mr.Ravi Mohan, who belongs to one of the oldest business families in India. Mr. Ravi Mohan promoted Hind Filters Ltd., in 1974 to manufacture Cigarette Filter Rods after obtaining Bachelors Degree in Mechanical Engineering from University of Jabalpur, and Masters Degree in Industrial Engineering from Kansas State University, USA in 1970.
Hind Filters Ltd., has its factory at Dewas, Madhya Pradesh, and is one of the leading producer of Cigarette Filter Rods in the country. It has business association with all the leading cigarette companies in India.
In 1982, Mr. Ravi Mohan promoted Hind Syntex Ltd. to manufacture synthetic Blended Yarn. The first unit, was setup in the outskirts of Dewas to provide employment to the local population and the second Unit, was setup in 1991, in the outskirts of Bhopal. Currently the company is one of the leading producer of synthetic Blended Yarn in the country though no longer part of the Hind Group post divestiture. He promoted Dewas Soya Ltd. in 1994 to implement a 900 MT. per day Soyabean Extraction Unit at Dewas, M.P. The Unit commenced production in January, 1995. All the companies promoted by him have an excellent track record, and enjoy an extremely good relationship with lenders, suppliers, buyers and the employees.

1-A & 8-A Industrial Area A.B. Road Dewas-455001 (M P) INDIA
Ph: +91-7272-258293-95, 400363 (3 lines);Fax No. +91-7272 - 258717, 258838
E-mail : hindfilters@hindgroupindia.com